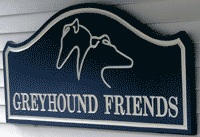 There are many ways you can help dogs by supporting Greyhound Friends!
Donate Funds
We welcome donations in any amount. Everything helps.
Contributions to Greyhound Friends are tax deductible. Our IRS 501(c)(3) authorization number is 22-2624136.
Checks may be mailed to Greyhound Friends, 167 Saddle Hill Road, Hopkinton, MA 01748.
Or you can make a one-time or recurring weekly or monthly payment via PayPal.
Be a Monthly Sustainer
Sustaining donors – who make an automatic monthly contribution to Greyhound Friends – are essential to our continued operation.
It's so easy to make a monthly gift, in any amount that's comfortable for you: just click the Donate button on this page, choose an amount and click the option to make it monthly. That's it! Please become a Sustainer today.
Amazon Wishlist
The kennel is always in need of supplies, for dog care, cleaning, administration, etc. To view our wish list on Amazon, please go to :
https://www.amazon.com/hz/wishlist/ls/94KOGDM7JO14
Chewy Wishlist
We also have a wish list of needed supplies on Chewy.com – see how you can help here:
https://www.chewy.com/g/greyhound-friends-inc_b76521719
Drop Off Kennel Supplies
If you prefer, you may drop off supplies of Purina Pro Plan Focus Sensitive dog food (dry & canned) & Rescue One-Step Disinfectant Cleaner & Deodorizer, bleach, dish soap, laundry detergent, paper towels & TP, waste pickup bags & trash bags, blankets, stamps, dog treats, leashes & martingale collars anytime during our open hours.
Employer Match
Find us on Wooftrax – WoofTrax through its free mobile app gives dog owners the chance to earn d
Does your employer match your charitable giving? Please inquire, so you can multiply the impact of your gifts to Greyhound Friends.
We are registered with Benevity/Bright Funds, which many companies use to manage their matching gifts. Of course we're also happy to complete any forms your employer uses for their match program. Please email info@greyhound.org or mail your employer's forms to us at 167 Saddle Hill Rd, Hopkinton, MA 01748.
Organize a Drive or Fundraiser
Whether it's your friends & neighbors contributing to your personal Facebook fundraiser appeal, or a club activity like Scouts or a community service group collecting dog food, treats and blankets – when people get together to help, they can make a big impact for good. If you're not sure what to choose, please call or email our director, Terri Shepard, to discuss your ideas.
Remember a Loved One with a Tree of Life Leaf
You can memorialize a loved one with their name engraved on a hand-wrought leaf installed on the beautiful tree that greets all kennel visitors in our reception area.
Sculpted by local metal artist Eduardo Amaral, the tree and leaves are a lasting and meaningful memorial. Please email greyhoundfriends.office@gmail.com for an order form with all the details. Leaves are $300 each, with all proceeds supporting adoption, of course.
Planned and Legacy Giving
If you'd like to make helping animals a part of your legacy, either through planned giving strategies now, or through inclusion in a trust or will, please consider designating Greyhound Friends as a beneficiary.
Through substantial legacy gifts, donors have been making lifesaving work possible for close to 40 years. We are here for dogs who need us – and will be here into the future, since the need continues.
Please contact us – or ask your estate attorney or financial planner to get in touch – for any information that will assist in your planning.