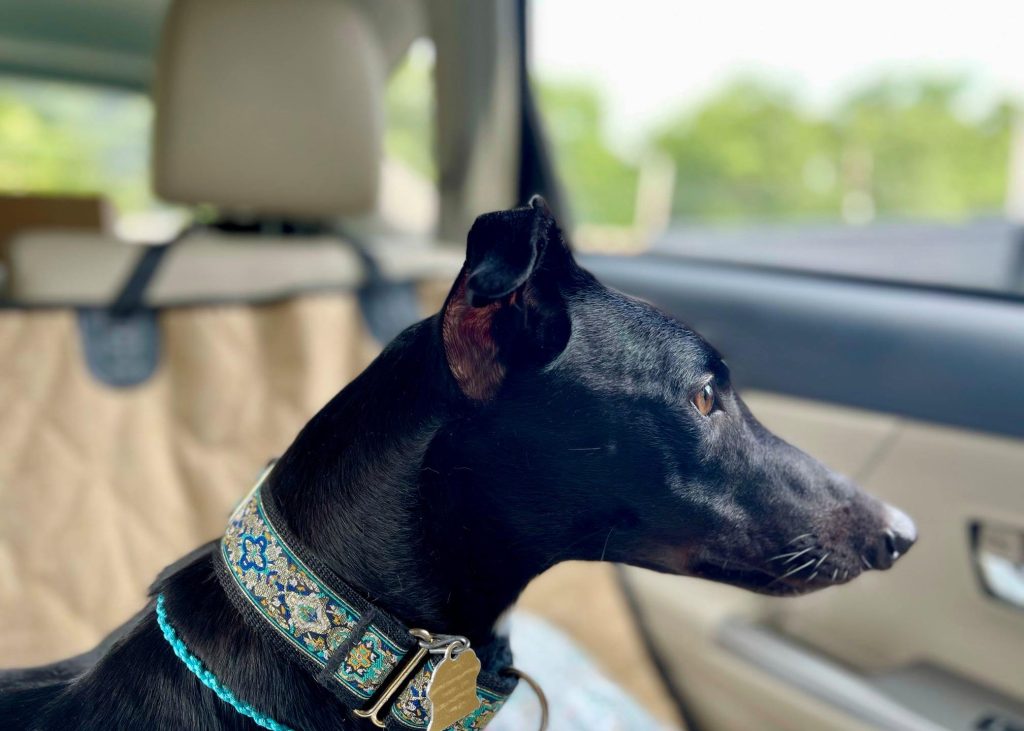 Welcome!
Greyhound Friends is a 501(c)(3) nonprofit organization and greyhound adoption shelter based in Hopkinton, Massachusetts. Founded in 1983, we are dedicated to placing greyhounds and other dogs in responsible, loving adoptive homes, as well as educating the public about the greyhound breed and generally promoting animal welfare through educational & outreach programs.
Consistent with this mission, over the past 35 years Greyhound Friends has grown to include a community of adopters, greyhound rehoming advocates, and dog welfare supporters working locally, nationally, and internationally. Through the dedicated efforts of its staff, volunteers, and supporters, the organization has rehomed over 10,000 dogs.
Thanks to the generous support of our donors and sustainers, the Greyhound Friends adoption kennel has reopened for adoptions after a comprehensive upgrade of its facility.
We invite prospective adopters to download and complete a Preadoption Application and schedule a visit to meet our available dogs. We are not taking applications for Greyhounds at this time due to an extensive waiting list. Mixed breed dogs will be arriving on a regular basis throughout the summer. As of 01/01/2021 our adoption fee will be $450 for domestic dogs and $650-$1000 for international dogs depending on transportation costs.
Join our email list and follow us on Facebook or Instagram for the latest updates and news.
Contributions in any amount are greatly appreciated.
We rely on your continued support to help these deserving dogs – Thank you!
What's New:
Good news/bad news: It seems nothing is ever easy when it comes to moving dogs toward home.
We have committed to three new Irish greys to arrive in late January. Abby, Galen, and Zoe are getting used to their flight crates and preparing for their travels. That's the good news.
The bad news is that Aer Lingus has raised its rates by over 500 Euros per dog to get them here! That converts to nearly $575 more per dog and about a 50% increase in total cost. So we are again asking compassionate friends to help by chipping in toward this expense, please. Just click the Donate button above and note "Irish transport" in the comment field.
The need for adoption in Ireland far outpaces the demand there, so it is critical to keep our commitment to these dogs. (Plus, moving these 3 will help 3 more currently waiting for their shelter beds to become available). We will continue trying to find answers and any available work-arounds for future transports. Meanwhile, we rely on your kindness and generosity for Abby, Galen and Zoe. Some more good news: we are most of the way to funded as of January 22. Every gift really helps.
This transport is part of our ongoing collaboration with MADRA Ireland and Greyhound Rescue of New England.
The Winter Warm-Up Auction is now open for bidding!
Please browse our Facebook Auction Album and bid, bid bid for a good cause (adoption, of course). We have over 100 practical, fun, and unusual items for pets and people, something for every taste and budget. As always, 100% of proceeds benefit the dogs in our care.
Please SHARE the auction link on your Facebook and get your bids in before January 29! 💙