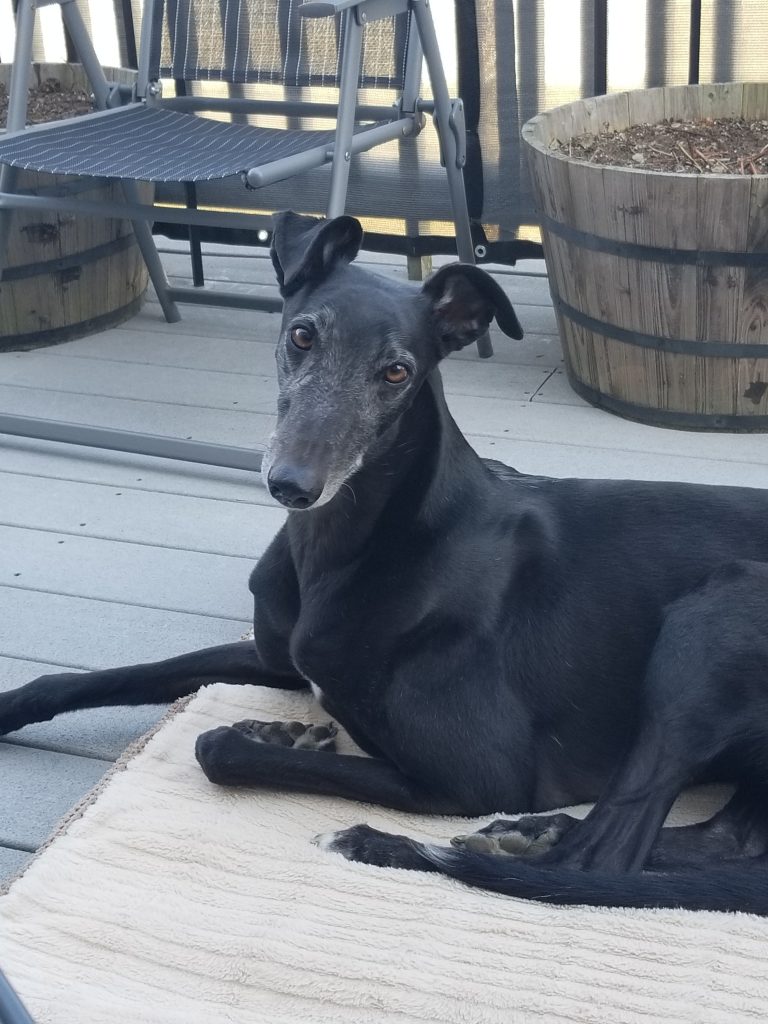 Welcome!
Greyhound Friends is a 501(c)(3) nonprofit organization and greyhound adoption shelter based in Hopkinton, Massachusetts. Founded in 1983, we are dedicated to placing greyhounds and other dogs in responsible, loving adoptive homes, as well as educating the public about the greyhound breed and generally promoting animal welfare through educational & outreach programs.
Consistent with this mission, over the past 35 years Greyhound Friends has grown to include a community of adopters, greyhound rehoming advocates, and dog welfare supporters working locally, nationally, and internationally. Through the dedicated efforts of its staff, volunteers, and supporters, the organization has rehomed over 10,000 dogs.
Thanks to the generous support of our donors and sustainers, the Greyhound Friends adoption kennel has reopened for adoptions after a comprehensive upgrade of it's facility.
We invite prospective adopters to download and complete a Preadoption Application and schedule a visit to meet our available dogs. We are not taking applications for Greyhounds at this time due to an extensive waiting list. Mixed breed dogs will be arriving on a regular basis throughout the summer. As of 01/01/2021 our adoption fee will be $450 for domestic dogs and $650-$1000 for international dogs depending on transportation costs.
Join our email list and follow us on Facebook or Instagram for the latest updates and news.
Contributions in any amount are greatly appreciated.
We rely on your continued support to help these deserving dogs – Thank you!
Announcements:
Big Benefit Barn Sale October 23-24
Mark your calendar now to come and shop our Big Benefit Barn Sale on October 23-24, 9 am – 2 pm, at 355 Williams Street, Uxbridge, MA. Proceeds will support the care of our kennel dogs.

We are now collecting CLEAN, GOOD CONDITION, gently used items like tools, sports equipment, art and decor, small electronics, small appliances, household goods and decorative items, jewelry (costume to fine), accessories (scarves, handbags), toys, small/accent furnishings, and other popular yard sale items. 

Do your garage/basement/closets need a cleanout? If you're within driving distance to the Greyhound Friends kennel, here's a win/win proposition: purge some unwanted stuff for a good cause and bring it to Greyhound Friends for our Barn Sale! Regular drop off times are Sundays and Tuesdays between 11 a.m. and 2 p.m. at the kennel, 167 Saddle Hill Rd Hopkinton. (If those hours don't work for you, please email auction@greyhound.org and we'll work with you to make other arrangements.)

Volunteers Are Needed: If you'd like to help out at the sale, or if you can help sort, organize and prepare the donated items beforehand, we need you! Please get in touch. Once the clutter is gone, you'll have space to add new finds – so come shop and help the hounds!