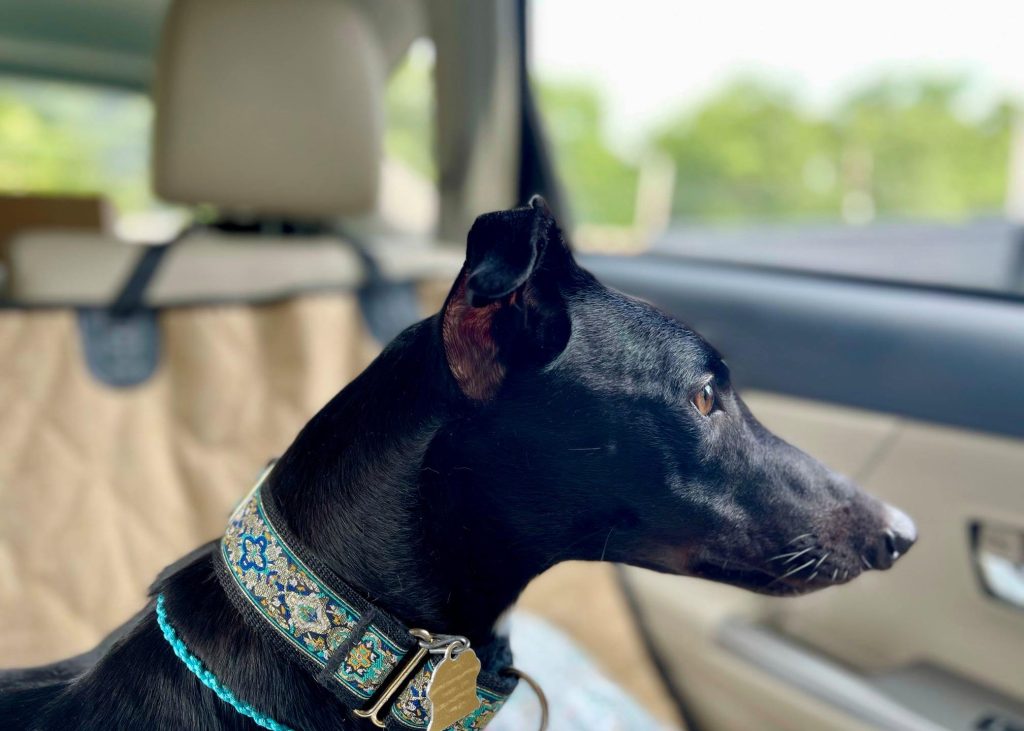 Welcome!
Greyhound Friends is a 501(c)(3) nonprofit organization and dog adoption shelter based in Hopkinton, Massachusetts. Founded in 1983, we are dedicated to placing greyhounds and other dogs in responsible, loving adoptive homes, as well as educating the public about the greyhound breed and generally promoting animal welfare through educational & outreach programs.
Consistent with this mission, over the past 35 years Greyhound Friends has grown to include a community of adopters, greyhound rehoming advocates, and dog welfare supporters working locally, nationally, and internationally. Through the dedicated efforts of its staff, volunteers, and supporters, the organization has rehomed over 10,000 dogs.
Thanks to the generous support of our donors and sustainers, the Greyhound Friends adoption kennel reopened for adoptions in 2019, after a comprehensive upgrade of the facility.
We invite prospective adopters to download and complete a Preadoption Application and schedule a visit to meet our available dogs. Greyhounds, sighthounds, and mixed breed dogs are arriving on a regular basis. Our adoption fee is $450 for domestic dogs and $650-$1000 for international dogs depending on transportation costs.
Join our email list and follow us on Facebook or Instagram for the latest updates and news.
Contributions in any amount are greatly appreciated. Please consider becoming a Sustainer by making a monthly contribution, automatically through PayPal. Thank you!
Greyhound Friends is committed to creating a diverse environment and is proud to be an equal opportunity organization. All qualified applicants will receive consideration without regard to race, religion, gender, gender identity or expression, sexual orientation, national origin, genetics, disability, age, or veteran status.
What's New:
Fabulous Fall Fundraising Auction Runs Nov 5-12 on Facebook
Find treasures & bargains for every taste and budget, and support adoption too!
Over 200 items, including jewelry, art, home & holiday decor, gifts, accessories, fancy collars and comfy winter dog coats are offered for your browsing & bidding pleasure.
Browse the auction album on Facebook – and remember to get your final bids in by auction close – Saturday, November 12 at 8 pm Eastern Time.
All proceeds support adoption. Bid high and you'll help get more homeless dogs home.
We're Hiring!
Do you live in or close to Hopkinton and love dogs? Want to pick up a few hours a week doing rewarding work? Greyhound Friends is hiring a Part Time Kennel Assistant.
We're looking for a reliable, independent, hard-working dog lover. 💙💚 Duties include turnouts, cleaning runs and kennels, laundering bedding, socialization and one-on-one play time with dogs. Must be 18+, dependable self-starter, good with dogs, good judgment, have valid MA license and reliable transportation. Pay is $14.25:hr; potential for future growth. Schedule may include evenings/weekends. Training is provided.
Please send a brief resume and 3 references to info@greyhound.org. Greyhound Friends is an equal opportunity employer.
Order Your 2023 Greyhound Wall Calendar or Desk Planner
Deck your wall (or desk) with greyhounds, fa-la-la-la-la, la-la, la-la!!
Monthly wall calendars and weekly desk planners featuring beautiful adopted greyhounds from groups around the US are available now, on a limited basis. Order yours while they last, by emailing greyhoundfriends.office@gmail.com.
Monthly wall calendars are $15 and desk planners are $18 each. Shipping cost varies by location & quantity but averages $4-5 by media mail. Thank you for supporting adoption when you shop! 💙💚