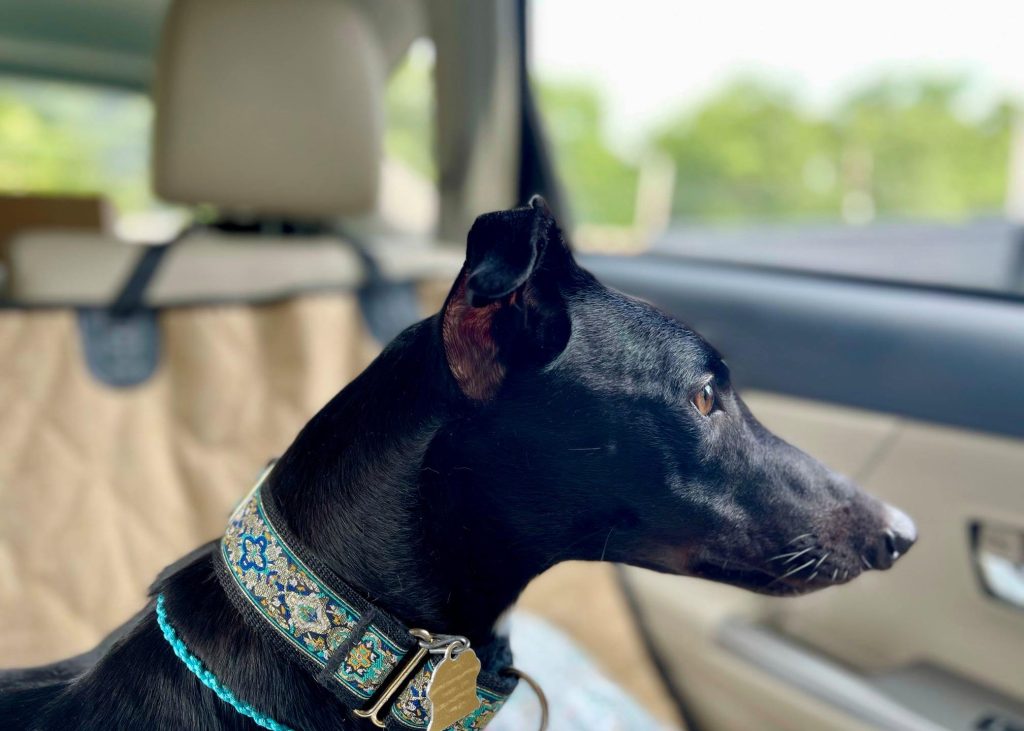 Welcome!
Greyhound Friends is a 501(c)(3) nonprofit organization and dog adoption shelter based in Hopkinton, Massachusetts. Founded in 1983, we are dedicated to placing greyhounds and other dogs in responsible, loving adoptive homes, as well as educating the public about the greyhound breed and generally promoting animal welfare through educational & outreach programs.
Consistent with this mission, over the past 35 years Greyhound Friends has grown to include a community of adopters, greyhound rehoming advocates, and dog welfare supporters working locally, nationally, and internationally. Through the dedicated efforts of its staff, volunteers, and supporters, the organization has rehomed over 10,000 dogs.
Thanks to the generous support of our donors and sustainers, the Greyhound Friends adoption kennel reopened for adoptions in 2019, after a comprehensive upgrade of the facility.
We invite prospective adopters to download and complete a Preadoption Application and schedule a visit to meet our available dogs. Greyhounds, sighthounds, and mixed breed dogs are arriving on a regular basis. Our adoption fee is $450 for domestic dogs and $650-$1000 for international dogs depending on transportation costs.
Join our email list and follow us on Facebook or Instagram for the latest updates and news.
Contributions in any amount are greatly appreciated. Please consider becoming a Sustainer by making a monthly contribution, automatically through PayPal. Thank you!
Greyhound Friends is committed to creating a diverse environment and is proud to be an equal opportunity organization. All qualified applicants will receive consideration without regard to race, religion, gender, gender identity or expression, sexual orientation, national origin, genetics, disability, age, or veteran status.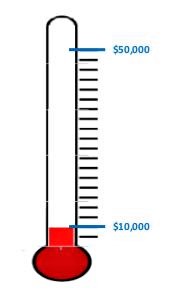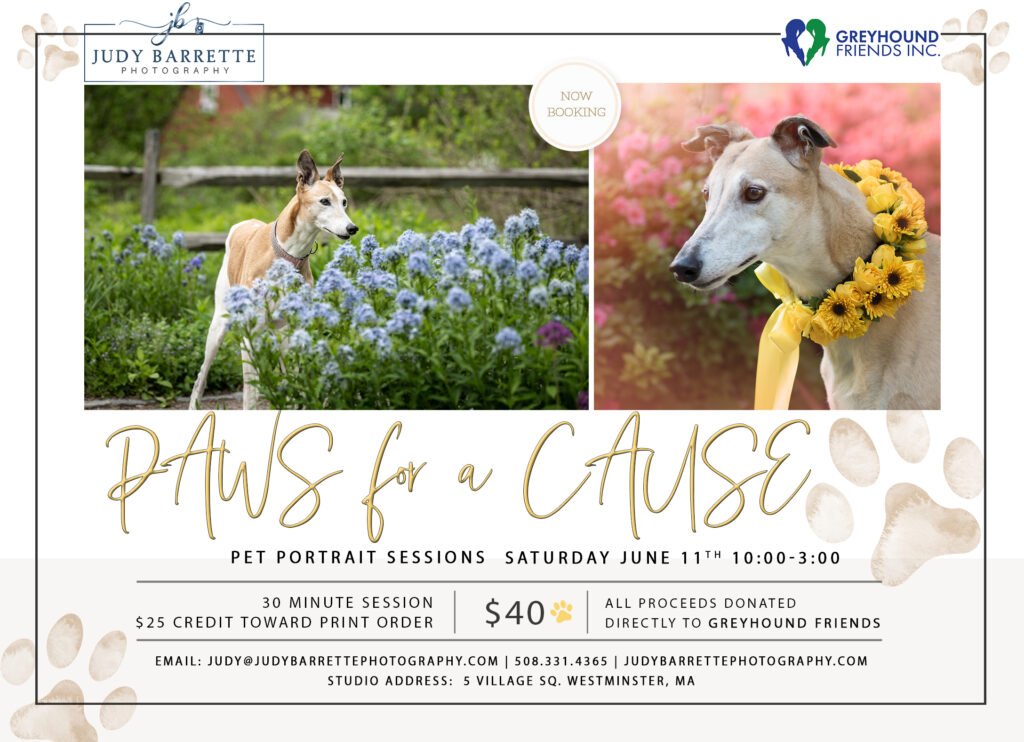 What's New:
The Spring Campaign Is Underway!
Friends, it's time for the annual Spring Campaign to support adoptions and advocacy for homeless dogs – and YOU are the key to its success! Major donors have already pledged an initial $10,000 in MATCHING GIFTS! Now let's get off to a strong start and secure those funds asap.
You can DOUBLE THE IMPACT of your gift in any amount by clicking the secure PayPal button above, or sending your check to Greyhound Friends, 167 Saddle Hill Rd., Hopkinton, MA 01748.
THANK YOU for your compassion and kindness. Greyhound Friends continues to be there for dogs who need us – and your support is what makes that possible.
"Paws for a Cause" Pet Photo Session Supports Adoptions
Here's a fantastic opportunity to have a pet portrait taken by the very talented Judy Barrette, and benefit Greyhound Friends at the same time. Book your session now for June 11 and take advantage of the special rate – only $40 (going to Greyhound Friends), plus you get a $25 credit toward your choice of prints.
Check out Judy's beautiful portfolio at judybarrettephotography.com – then give her a call at 508-331-4365 or email Judy@JudyBarrettePhotography.com to schedule.
Open House In the News
Thank you to the Hopkinton Independent for coming to cover the Spring Open House. Click here for story and photos.
2021 Annual Report Avaiable
Board president Cathy DeNorscia presented the 2021 Annual Report at Greyhound Friends' Annual Meeting held on April 24, 2022. Please click the link to take a look at the year's accomplishments and plans for 2022.