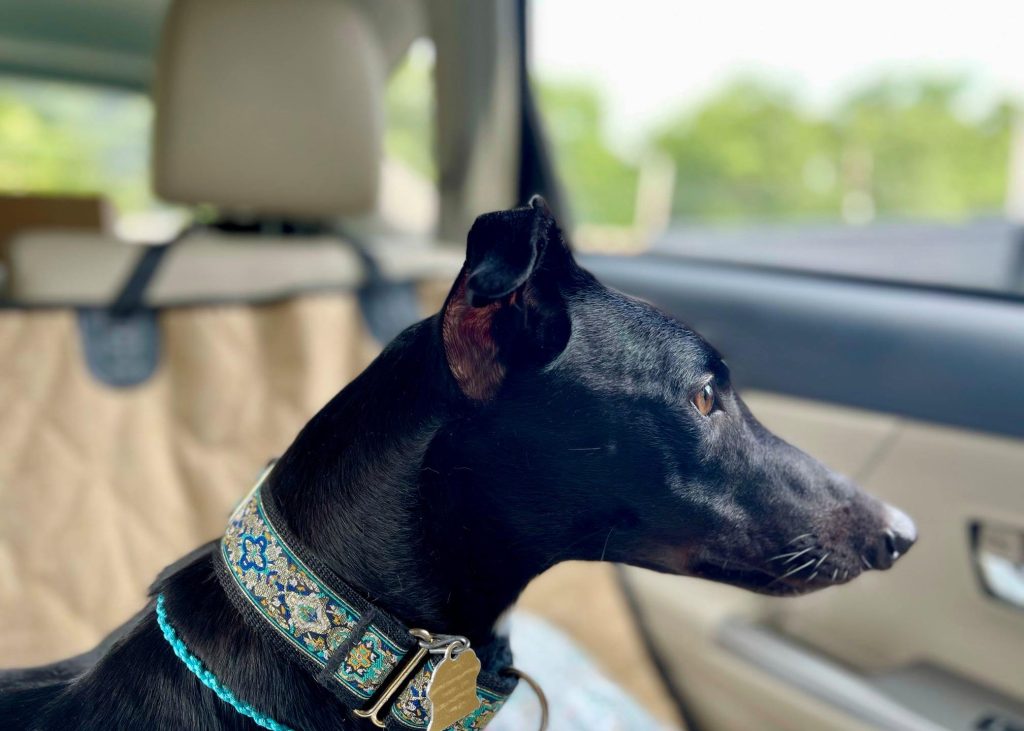 Welcome!
Greyhound Friends gets homeless dogs home – especially purpose-bred dogs like sighthounds and sporting dogs who are overbred or discarded when no longer useful. We adopt dogs to responsible, loving homes in Massachusetts and throughout New England. We also work to educate the public about the need for adoption and humane treatment of dogs everywhere.
If you want to adopt, please download and complete a Pre-adoption Application and schedule a visit to meet our available dogs. Greyhounds, sighthounds, hounds and mixed breed dogs are arriving on a regular basis. Our adoption fee is $450 for domestic dogs, $650 for Portuguese dogs, and $1000 for Spanish and Irish dogs. Fees vary mainly due to differences in transport costs.
Join our email list and follow us on Facebook or Instagram for the latest updates and news.
You can turn compassion into action by making a contribution in any amount. Please consider becoming a Sustainer by making a monthly gift, automatically through your credit card or PayPal, using the Donate button above. All contributions are greatly appreciated and help dogs right away.
Fueled by the kind support of dog-loving friends, we are here for dogs who need us.
Greyhound Friends is committed to creating a diverse environment and is proud to be an equal opportunity organization. All qualified applicants will receive consideration without regard to race, religion, gender, gender identity or expression, sexual orientation, national origin, genetics, disability, age, or veteran status.
What's New:
Updates on the 2023 Canine Respiratory Syndrome
Click here for news on the canine respiratory illness now seen in multiple states, with safety measures we're taking and recommendations to keep your dogs safe from infection.
Adoptable Galgos Arrive from Spain
Spanish galgo brother Storm and Rain arrived recently and are settling in at the kennel. Both are sweet, affectionate and playful boys – Storm a bit more outgoing thank his brother. Rain and Storm were rescued in a deluge by our friends at Galgos del Sol in Murcia.
Our first Spanish galgos since we began regular international transports 3 years ago, they are also the 99th and 100th sighthounds we've brought over for adoption: a double milestone.
In addition to Spain, our transport partners are located in Ireland, Portugal, China and Qatar. Huge thanks to all involved in this lifesaving work!
Volunteers Needed to Staff Info Tables, Schedule Others, Help with Database Management
Greyhound Friends has volunteer opportunities in 3 distinct areas:
💙 Staffing information tables at upcoming events and meet & greets – learn by shadowing experienced volunteers, then expand to new locations
💙 Scheduling other volunteers and coordinating coverage for upcoming events throughout the year.
💙 Assisting the development team with technical guidance to improve database accuracy.
If any of these opportunities interest you, please email greyhoundfriends.office@gmail.com to learn more. Thank you!
Read the Spring 2023 Newsletter – 40 Years of Saving Dogs
This special edition newsletter chronicles Greyhound Friends' 40 year history in pictures. Click to download the PDF and read the latest news.