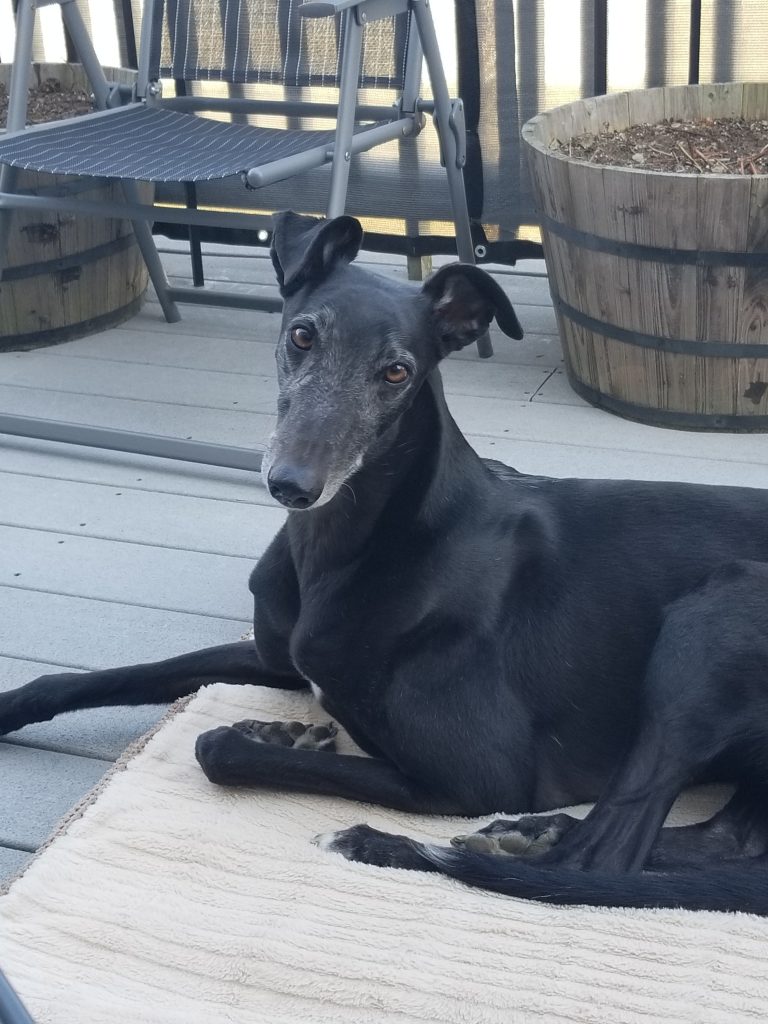 Welcome!
Greyhound Friends is a 501(c)(3) nonprofit organization and greyhound adoption shelter based in Hopkinton, Massachusetts. Founded in 1983, we are dedicated to placing greyhounds and other dogs in responsible, loving adoptive homes, as well as educating the public about the greyhound breed and generally promoting animal welfare through educational & outreach programs.
Consistent with this mission, over the past 35 years Greyhound Friends has grown to include a community of adopters, greyhound rehoming advocates, and dog welfare supporters working locally, nationally, and internationally. Through the dedicated efforts of its staff, volunteers, and supporters, the organization has rehomed over 10,000 dogs.
Thanks to the generous support of our donors and sustainers, the Greyhound Friends adoption kennel has reopened for adoptions after a comprehensive upgrade of it's facility.
We invite prospective adopters to download and complete a Preadoption Application and schedule a visit to meet our available dogs. We are not taking applications for Greyhounds at this time due to an extensive waiting list. Mixed breed dogs will be arriving on a regular basis throughout the summer. As of 01/01/2021 our adoption fee will be $450 for domestic dogs and $650-$1000 for international dogs depending on transportation costs.
Join our email list and follow us on Facebook or Instagram for the latest updates and news.
Contributions in any amount are greatly appreciated.
We rely on your continued support to help these deserving dogs – Thank you!

Announcements:
Win an Extraordinary Work of Art and Support Veterinary Care for Dogs in Need
Thanks to some generous donors, Greyhound Friends is pleased to offer some very special prizes in a limited fundraising raffle.

Proceeds will support extraordinary medical expenses for dogs in our care, including orthopedic surgeries for broken leg/hock repair, cancer treatment, and other extraordinary and costly cases.

FIVE SPECIAL PRIZES will be awarded; odds are 1 in 500 or better as no more than 500 tickets will be sold!

1. "All the Comforts of Home" is a gorgeous framed print of an original oil painting by artist Adeline Halvorson. It features a beautiful greyhound on the "forever couch" they all deserve. The colors are rich and the realistic image is highly detailed. Measuring 22″ x 31″ overall and valued at over $500, this print is the last of its kind and no longer available for purchase from the artist. Donated by Kathy Mahoney.
2. Rare Marta Howell boulder opal pendant with Northcoast Greyhounds embellishment – Marta Howell Jewelry deals mostly with a combo of gemstones and mother of pearl, but on rare occasions, offers some boulder opal – like THIS one! It's not often that the opal is as apparent as it is here. The pendant has been embellished with Northcoast Greyhounds' original sized 8Ball greyhound and is accompanied by a 30" adjustable sterling chain. Donated by Louise Winders
3. Professional Pet Photo Session with MA based photographer Judy Barrette and a Wrapped Canvas Print of your photo. Donated by Kathy Mahoney and Judy Barrette – www.judybarrettephotography.com.
4. Sterling Jewelry Set – The Golden Hound's handmade "Redsie" pendant, bracelet, and earrings in substantial sterling silver feature an elegant greyhound profile. Donated by Kathy Mahoney.
5. $50 Petco gift card. Courtesy of the late Greg King and family.

TICKETS: $10 per entry; get one free with purchase of 10 tickets! You can buy as many tickets as you want (up to the limit). Ticket sales will be limited to a maximum of 500. The entry deadline is December 15, 2021.

To purchase your tickets, just click on the "Donate" button at the top of this page and note "Raffle" in the comment field. (Or you can send a check, noting "Raffle" in the memo field.)
Entries will be assigned a ticket number at the time of purchase. Please be sure we have your email address to send your ticket numbers and notifications. Five numbers will be drawn at random, and winners will be notified in order. The first winner may claim their choice of the 5 prizes; second winner may claim their choice of the 4 remaining prizes, and so on.
Please email greyhoundfriends.contests@gmail.com with any questions. Thank you and good luck to all!