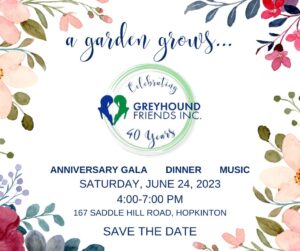 Please join us for an evening of convivial company and celebration, 4-7 pm on Saturday, June 24, 2023!
We will gather at Greyhound Friends to celebrate 40 years of dog adoption and advocacy. Over 10,000 lives saved – and looking ahead to thousands more to come. Friends like you make this work possible. Let's mark this milestone together!
Dinner and music will accompany special guests and a silent auction. Tickets: $75/person or $125/couple. Click here to purchase or email greyhoundfriends.office@gmail.com for assistance. The event will be held outdoors (tented). Dressy garden attire. Please leave beloved pets comfortably at home this time.
Sponsorships and program greetings are available at the ticket link – click here for a PDF of the available Sponsorship levels and rewards. Our friends and adopters are responsible owners and community members. If this is a target demographic for your business, please consider sponsorship or an in-kind silent auction contribution.
Sponsors receive multi-channel visibility and recognition as a dog-friendly business, in proportion to your donation. Plus, you'll make a lifesaving difference to deserving dogs this year. Please note: program inclusion deadline is Saturday, June 10!