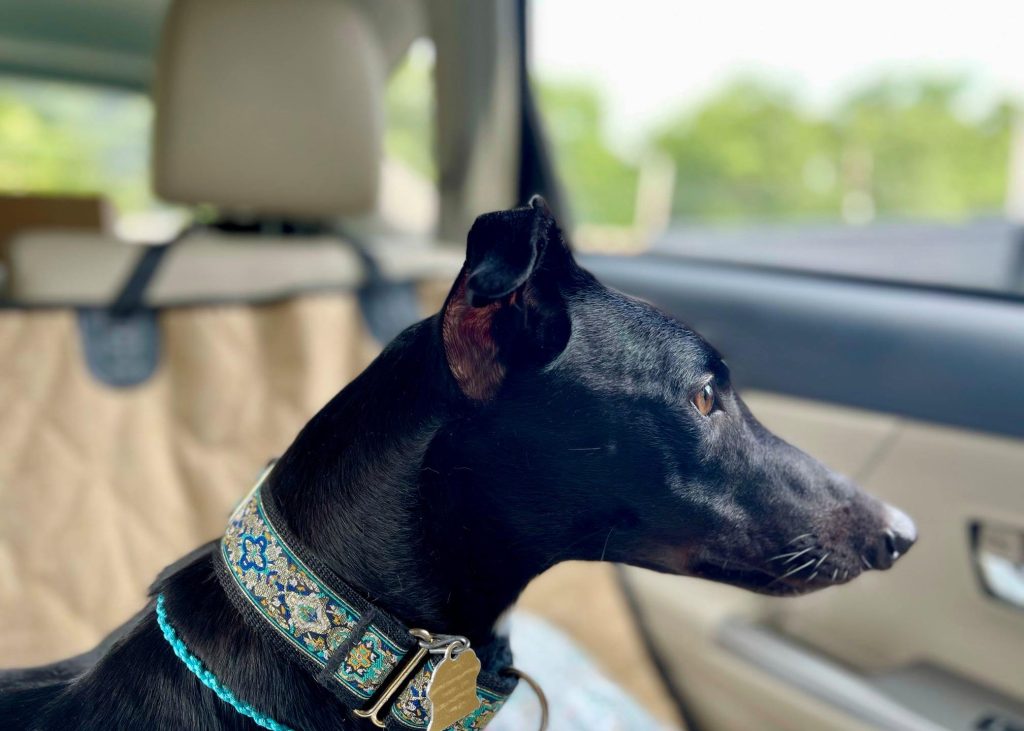 Welcome!
Greyhound Friends is a 501(c)(3) nonprofit organization and dog adoption shelter based in Hopkinton, Massachusetts. Founded in 1983, we are dedicated to placing greyhounds and other dogs in responsible, loving adoptive homes, as well as educating the public about the greyhound breed and generally promoting animal welfare through educational & outreach programs.
Consistent with this mission, over the past 35 years Greyhound Friends has grown to include a community of adopters, greyhound rehoming advocates, and dog welfare supporters working locally, nationally, and internationally. Through the dedicated efforts of its staff, volunteers, and supporters, the organization has rehomed over 10,000 dogs.
Thanks to the generous support of our donors and sustainers, the Greyhound Friends adoption kennel reopened for adoptions in 2019, after a comprehensive upgrade of the facility.
We invite prospective adopters to download and complete a Preadoption Application and schedule a visit to meet our available dogs. Greyhounds, sighthounds, and mixed breed dogs are arriving on a regular basis. Our adoption fee is $450 for domestic dogs and $650-$1000 for international dogs depending on transportation costs.
Join our email list and follow us on Facebook or Instagram for the latest updates and news.
Contributions in any amount are greatly appreciated. Please consider becoming a Sustainer by making a monthly contribution, automatically through PayPal. Thank you!
Greyhound Friends is committed to creating a diverse environment and is proud to be an equal opportunity organization. All qualified applicants will receive consideration without regard to race, religion, gender, gender identity or expression, sexual orientation, national origin, genetics, disability, age, or veteran status.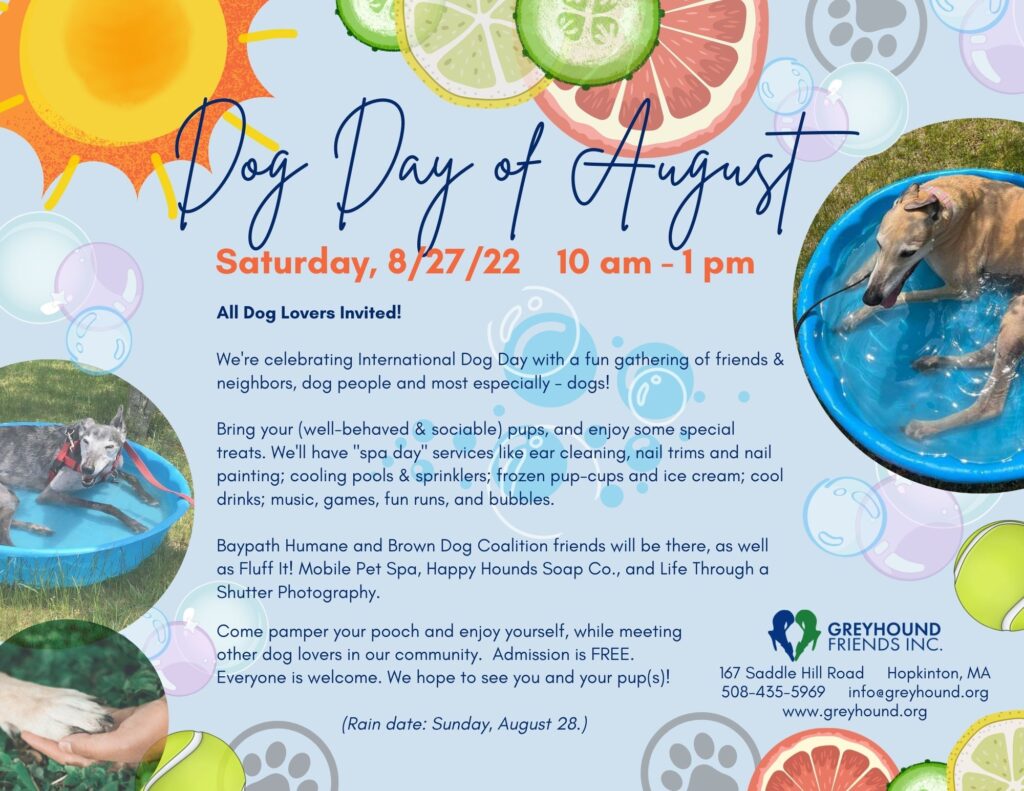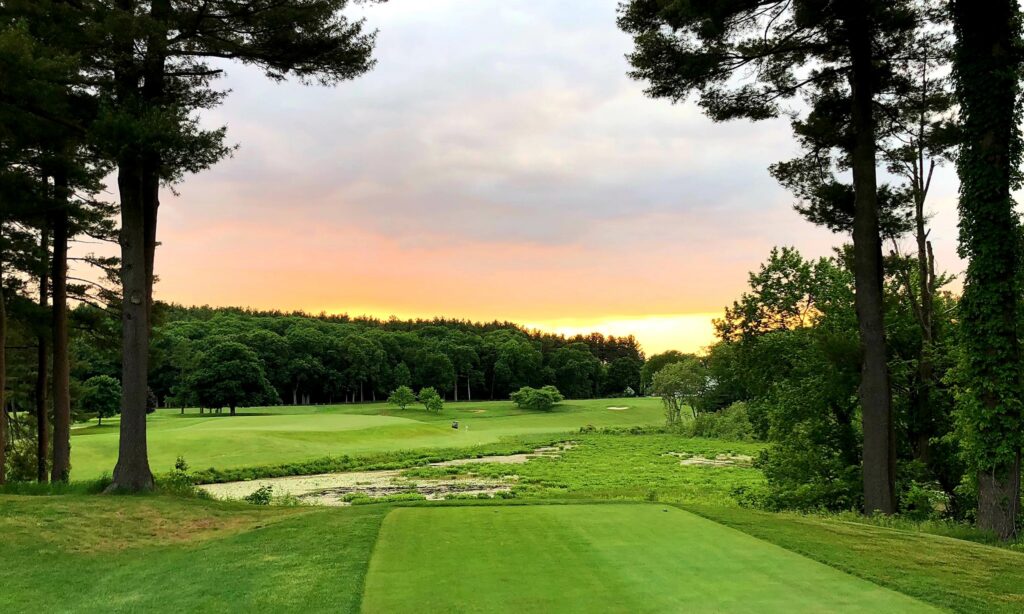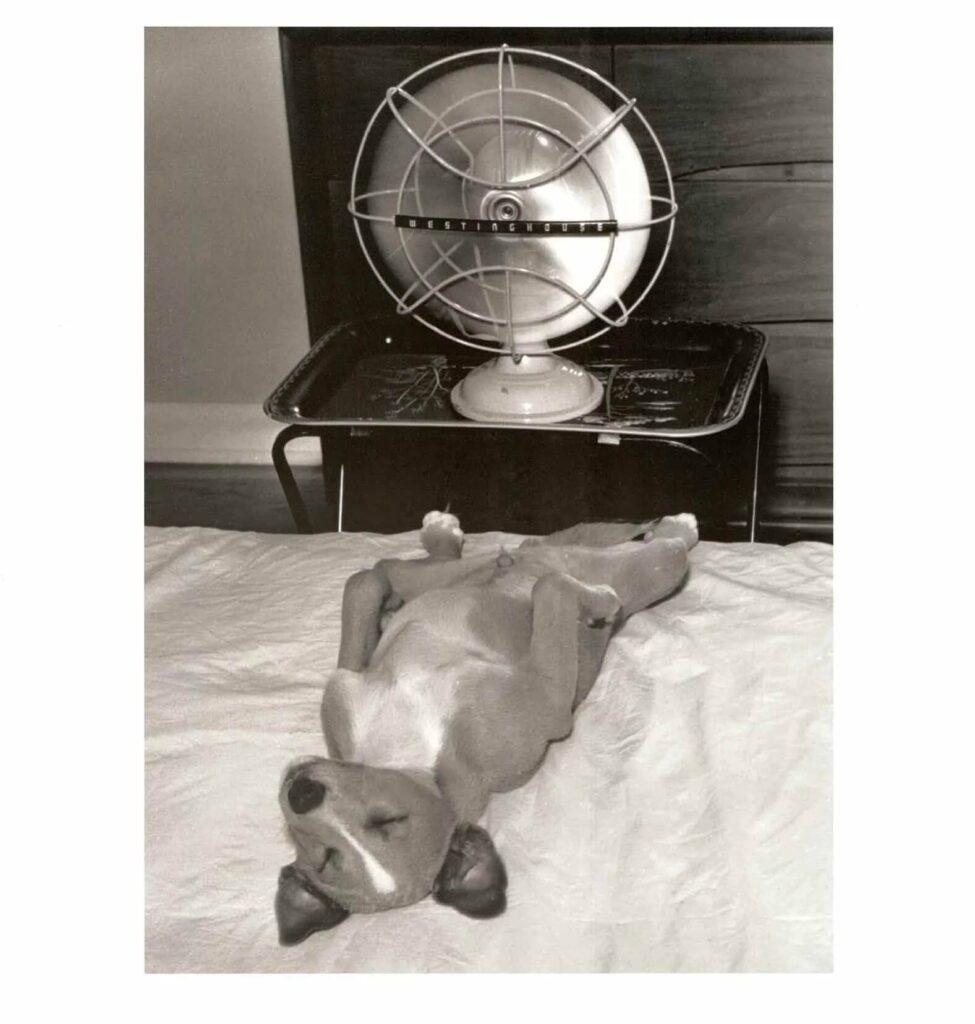 What's New:
Local Friends – Please Come to "Dog Day of August"on 8/27!
We're celebrating International Dog Day with a fun gathering of friends & neighbors, dog people and most especially – dogs! This is a time to pamper your pooch as well as yourself, and meet other dog lovers in our community.
Come, bring your (well-behaved & sociable) pups, and enjoy some special treats. Sample "spa day" services like ear cleaning, nail trims and nail painting; cooling pools & sprinklers; frozen pup-cups and ice cream; cool drinks; music and raffles; games, fun runs, kids' face painting and bubbles.
Baypath Humane Society and Brown Dog Coalition friends will be there, as well as Fluff It! Mobile Pet Spa, Happy Hounds Soap Co., and Life Through a Shutter Photography. Admission is FREE. Everyone is welcome. Save the date and we hope to see you there! (Rain date: Sunday, August 28.)
Please email greyhoundfriends.office@gmail.com with any questions. 💙💚
September 12 Golf Tournament and September 11 Golf Ball Drop Raffle Will Support Kennel Upgrades
Click here for information on the 3rd Annual "Golf Fore Paws" Tournament and Golf Ball Drop! All proceeds will support needed upgrades to the Greyhound Friends facility.
Join us for golf on September 12 and watch the Ball Drop live on September 11 – ticket link and details here.
The Summer Campaign Is Underway, and We Need Help!
Friends, support is urgently needed for the bills we're incurring just to keep our kennel dogs happy and comfortable as they wait for their forever homes to find them. The electric bill topped $1000 in July, and we're expecting the same for August as we wait to get through heat wave after heat wave.
Please help if you can. No matter the size, your contribution is needed to keep our doors open and adoptions moving along.
You can make a secure online gift in any amount by clicking the PayPal button above, or you may prefer to send your check to Greyhound Friends, 167 Saddle Hill Rd., Hopkinton, MA 01748
THANK YOU for your compassion and kindness. Greyhound Friends continues to be there for dogs who need us – and your support is what makes that possible.