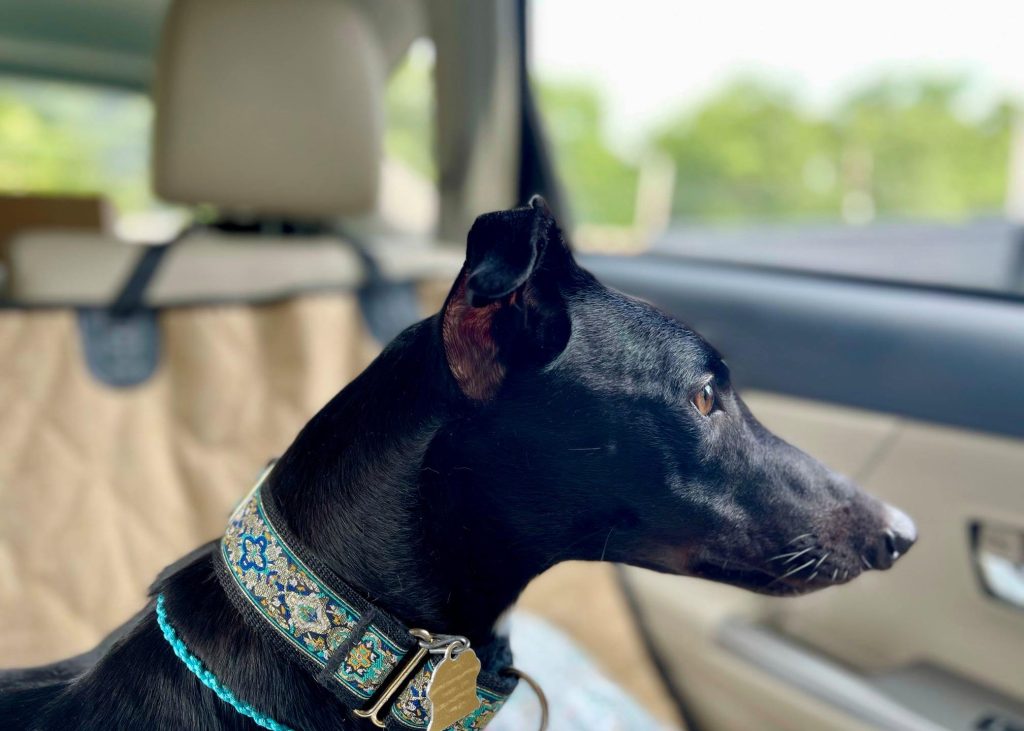 Fall Open House is Saturday, September 23, 10 am – 2 pm
Please plan to arrive on the early side as rain may affect activities
Welcome!
Greyhound Friends gets homeless dogs home – especially purpose-bred dogs like sighthounds and sporting dogs who are overbred or discarded when no longer useful. We adopt dogs to responsible, loving homes in Massachusetts and throughout New England. We also work to educate the public about the need for adoption and humane treatment of dogs everywhere.
If you want to adopt, please download and complete a Pre-adoption Application and schedule a visit to meet our available dogs. Greyhounds, sighthounds, hounds and mixed breed dogs are arriving on a regular basis. Our adoption fee is $450 for domestic dogs, $650 for Portuguese dogs, and $1000 for Irish dogs due to higher transportation costs.
Join our email list and follow us on Facebook or Instagram for the latest updates and news.
You can turn compassion into action by making a contribution in any amount. Please consider becoming a Sustainer by making a monthly gift, automatically through your credit card or PayPal, using the Donate button above. All contributions are greatly appreciated and help dogs right away.
Fueled by the kind support of dog-loving friends, we are here for dogs who need us.
Greyhound Friends is committed to creating a diverse environment and is proud to be an equal opportunity organization. All qualified applicants will receive consideration without regard to race, religion, gender, gender identity or expression, sexual orientation, national origin, genetics, disability, age, or veteran status.
What's New:
Come Join Us for the Fall Open House on Saturday, September 23, 2023, 10 am – 2pm
Current and past adopters, supporters, neighbors and friends are all invited to attend our Fall 2023 Open House! The day's activities will include visits with adoptable dogs, fun runs, nail trims, training tips, & contests for dogs including a **costume contest** plus vendors, music, refreshments, a silent auction & raffles, a Remembrance Ceremony, and information on our ongoing work helping homeless dogs go home.
Vendors include: Happy Hounds Soap Co. plant based skin care; Classy Couch Potatoes handmade collars & dogwear, MS Design crafts, and Lady's Bake Shop dog treats. Come indulge in some retail therapy and support local businesses. A portion of vendor proceeds goes to support adoption work.
The event is free, open to the public, and will be held outdoors. Kids are welcome, with adult supervision. All dogs are welcome, on leash (not retractable please) and in owner's full control.Also – please remember to bring sun and tick protection for both people and dogs. Please contact Greyhound Friends with any questions: greyhoundfriends.office@gmail.com. We hope to see you there! 💙💚
Our traditional Remembrance Ceremony will be held at 11:30 am during the Open House. If you've lost a special dog friend since we last gathered and you would like their name included in the ceremony, please email smelhado@comcast.net. The deadline for inclusion is Friday, September 22, 2023. ***You should receive an acknowledgment email that your request was received. If you do not receive a response to your email, please let us know right away. We do not want to leave your loved one off the list inadvertently.***
Volunteers Needed to Staff Info Tables, Schedule Others, Help with Database Management
Greyhound Friends has volunteer opportunities in 3 distinct areas:
💙 Staffing information tables at upcoming events and meet & greets – learn by shadowing experienced volunteers, then expand to new locations
💙 Scheduling other volunteers and coordinating coverage for upcoming events throughout the year.
💙 Assisting the development team with technical guidance to improve database accuracy.
If any of these opportunities interest you, please email greyhoundfriends.office@gmail.com to learn more. Thank you!
Save the Date: Shelter Adoption Day – Sunday, October 29, 2023
Come meet the adoptable dogs at the Greyhound Friends kennel, learn more about sighthound breeds as pets, and maybe bring home a fast friend! Staff & volunteers will be available to discuss your living situation and pet preferences, and introduce you to dogs who might fit in well with your household.
Dogs can be reserved for follow-up introductions to the entire family, including other dogs; those with a pre-approved application may adopt immediately if a match is made. Everyone is welcome but please leave pets safely at home.
Pre-registration is not required. Please email any questions to adopt@greyhound.org. (Rain or Shine!) 💙💚
Read the Spring 2023 Newsletter – 40 Years of Saving Dogs
This special edition newsletter chronicles Greyhound Friends' 40 year history in pictures. Click to download the PDF and read the latest news.